1st September 2020 By H&T Presspart
Bilim Pharmaceuticals, H&T Presspart and Hovione Technology unveil collaboration for new asthma product: Ventofor Combi Fix delivered by PowdAir Plus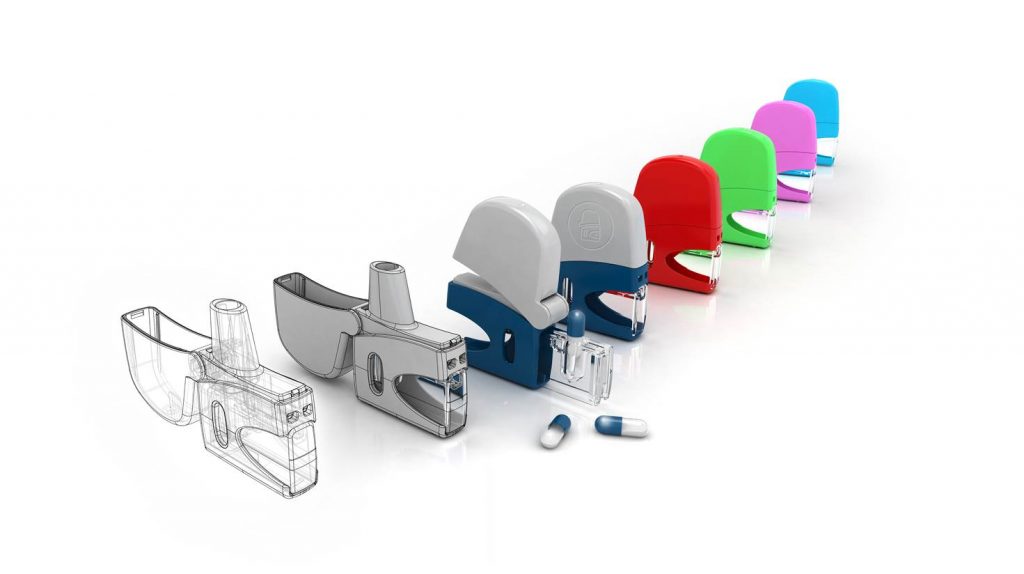 1st September 2020 – Bilim Pharmaceuticals, a Turkish company manufacturing and marketing pharmaceutical drugs, H&T Presspart, a global provider of respiratory drug-delivery devices and components to the pharmaceutical sector, and Hovione Technology, a pharmaceutical specialist in the development of innovative pulmonary device technology, today unveiled a collaboration supporting Bilim Pharmaceutical's launch into the Turkish market of Ventofor Combi Fix, a formulation of Budesonide Formoterol for Asthma and COPD management, delivered by the PowdAir Plus Dry Powder Inhaler (DPI).
Worldwide over 500 million people suffer from Asthma and COPD. In Turkey, there is growing patient demand for effective, readily accessible and affordable respiratory treatments. Aiming at fulfilling these patient needs, the three companies have been collaborating in Bilim Pharmaceuticals' development program to bring into the Turkish market Ventofor Combi Fix delivered by the PowdAir Plus DPI, an innovative capsule DPI providing maximum simplicity, ease of use and affordability. The PowdAir Plus DPI is exclusively manufactured and commercialized by H&T Presspart under patent license from Hovione Technology.
"It's a great pleasure for us to launch our new product Ventofor Combi Fix with a close collaboration with esteemed companies H&T Presspart and Hovione Technology. As being one of the strong drivers of Asthma and COPD treatment area, Ventofor Combi Fix is and will be an important part of our portfolio for this treatment area. We are confident that Ventofor Combi Fix will be a remarkable product in its market and crown all the outstanding efforts of the collaborators", said Okan Oncel, Bilim Pharmaceuticals's General Manager.
"We are very happy to see that Bilim Pharmaceuticals has selected the PowdAir Plus DPI for their launch of Ventofor Combi Fix. Due to the strong collaboration of Bilim Pharmaceuticals with Hovione Technology and H&T Presspart this milestone could be reached. The individual expertise in each of their fields has allowed us to develop a strong partnership in the design, development and manufacture of PowdAir Plus. We look forward to seeing Bilim Pharmaceuticals launch the product to the market and will continue to strongly support them with their inhalation strategy." said Christian Kraetzig, H&T Presspart's President.
"We are delighted to have started an inhalation collaboration with Bilim Pharmaceuticals, one of Turkey's largest pharmaceutical companies, and that they selected our PowdAir Plus DPI to bring Ventofor Combi Fix to patients' hands. We are also happy to continue our partnership with H&T Presspart, a master of large-scale industrialization and distribution, to turn our patented inhaler technology into a commercial ready product that is now globally available to pharmaceutical companies", said Peter Villax, Hovione Technology's CEO.
About Bilim Pharmaceuticals
Founded in 1953, Bilim Pharmaceuticals is a 100% Turkish capital owned company that manufactures and markets drugs, a strategically important commodity. Ranked as the second largest Turkish Pharma Company in the Turkish pharmaceutical industry, Bilim Pharmaceuticals consistently continues to grow at a higher rate than the market with a marketing and sales team of app. 1000. Bilim Pharmaceuticals carries out its production activities at two separate plants. Approved by EU GMP, Bilim Çerkezköy is one of Turkey's most significant penicillin manufacturing facilities. Approved by EU GMP, Bilim Gebze is Turkey's largest, most innovative and most environment-friendly drug manufacturing plant. Bilim Pharmaceuticals owns the largest R&D center of the Turkish pharmaceutical industry with a laboratory area of 4,500 square meters, where it develops new products, contributing significantly to the Turkish economy. Exporting to over 60 countries, Bilim Pharmaceuticals has representative offices in Moldova and Albania. In a sensitive sector which is directly related to human health, Bilim Pharmaceuticals prioritizes quality and adopts respect towards future generations as a corporate value.
About H&T Presspart
H&T Presspart offers pharmaceutical customer's high-precision injection moulded plastic components and deep-drawn metal cans for respiratory drug delivery systems, with 50 years' experience and a worldwide reputation for competence, quality and innovation in the pharmaceutical market. H&T Presspart's New Product Development Center (NPDC) & Inhalation Product Technology Centre (IPTC) support new product developments and strategic initiatives with our customers. Founded in 1970 and acquired by the Heitkamp & Thumann group in 2002, H&T Presspart has 3 European manufacturing sites with additional sales offices in China, India, the U.S.A. and Uruguay. For more information, please visit www.presspart.com.
About Hovione Technology
Hovione Technology offers access to a complete portfolio of innovative, cost-effective dry powder inhalation devices – disposable, capsule-based, blister-based and large dose DPIs. With over 20 years of expertise developing innovative inhaler technology, Hovione Technology's team has been behind the first market approved disposable dry powder inhaler for influenza treatment, the TwinCaps DPI, and the new market approved capsule DPI for Asthma and COPD management, the PowdAir Plus DPI. Millions of patients are being treated every year with Hovione Technology's innovative inhaler technology. For more information, please visit www.hovionetechnology.com and contact info@hovionetechnology.com